Anupamaa: Leela left STUMPED Jignesh last warning ahead (Upcoming Twist)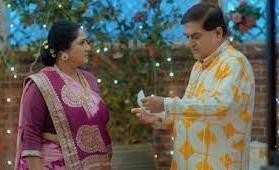 Anupamaa: Leela left stumped by Jignesh
Star Plus show Anupamaa is revolving around Leela planning and plotting against Anupamaa and Anuj.
It seems that Baa had called her mother and told her that she is needed immediately in Shah House as she wanted her mother to make some noise, but then Mamaji called his mother and explained things to her and he told Leela that their mother has giving blessings to Anupamaa and she was hurt that she remembered her only for getting back at Anupamaa.
Mamaji also gives a warning to Leela and tells her that if she does anything wrong during the engagement then he will break all ties with her and he will forget that she is his sister.
Leela plan flops
Baa is shocked and left stumped at what her brother just told her and she doesn't know how to react.
Well, it will be interesting to see what will be Leela's next step to ruin Anupamaa and Anuj's wedding.
Stay tuned for more such updates only on Serialxpress.com.