Anupamaa: OMG! Shocking Moment of the Century # VaAnuj Moment (Upcoming Twist)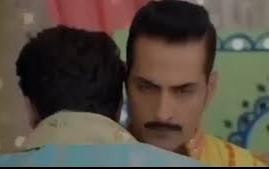 Anupamaa: Shocking moment of the century ahead
Star Plus show Anupamaa is revolving around Anuj coming to Shah House with lots of love in his heart.
It seems that Anuj will bring his barati to Shah House along with Dhol to get engaged to Anupamaa in style.
He will bend in front of Baa and ask her blessing but she will not agree to do so.
Anuj will show his big heart and instead hugs Baa and reveal that one day she will give them blessing and he is ready to wait.
Shockingly next he will go to Vanraj and hugs him.
This will leave everyone in the house surprised and shocked.
Rakhi will start making fun and calls this moment of the century # VaAnuj moment.
Rakhi makes fun of Vanraj
Later Anuj will be seen warning Vanraj to not play mind games with Anupamaa.
Will Vanraj be able to change his attitude or not?
Stay tuned for more such updates only on Serialxpress.com.