Anupamaa: Leela plan backfires dethrone from place of Baa (Upcoming Twist)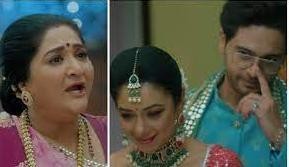 Anupamaa: Leela plan backfire jealousy takes over mother's feelings
Star Plus show Anupamaa is revolving around Leela calling her mother to stop Anupamaa and Anuj's wedding.
It seems that Leela is trying her level best to stop Anupamaa and Anuj's wedding by hook or by crook.
She will think about getting her mother in Shah House so that she can stop Anupamaa's wedding,
However her plan will backfire as Mamaji will not let his mother be a part of Leela's cheap tricks.
Leela will get angry with Mamaji for going against her and supporting Anupamaa.
Mamaji goes against Leela
Apparently Mamaji will remind Leela that she is wrong as she is using an old mother to create havoc in Anupamaa's life.
Later Mamaji will warn Leela that if she continues to behave like this than no one will respect her and give the place of a mother in their life.
Stay tuned for more such updates only on Serialxpress.com.