Anupamaa: Mukku Rakhi war of words Kinjal suffers Panic attack (Upcoming Twist)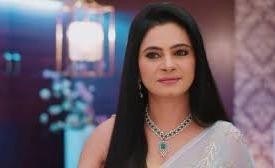 Anupamaa: Mukku humiliates Rakhi in front of Kinjal
Star Plus show Anupamaa is revolving around Rakhi coming to Shah House to enjoy the drama.
It seems that Anupamaa and Anuj are getting married against the wishes of Baa and Vanraj and hence there is a lot of tension in the house.
Rakhi will once again add fuel to the fire and makes fun of Anupamaa and Anuj's marriage.
Malvika will not like Rakhi's tone and reminds her that she is sitting in Kinjal's Sasural and hence should mind her language.
She will even talk about the fact that maybe she is jealous of Anupamaa and hence creating problem in her wedding.
Rakhi concerned for Kinjal
Kinjal on the other hand will start getting panic attack listening to Rakhi's constant taunts.
Will Rakhi be able to change herself or not?
Will Kinjal be able to stop Rakhi before it's too late?
Stay tuned for more such updates only on Serialxpress.com.