GHKKPM: Pakhi breaks Sai confidence bring forth Virat's double standard (Upcoming Twist)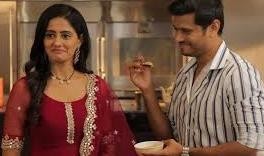 Ghum Hai Kisi Ke Pyaar Mein: Virat double standards resurface once again
Ghum Hai Kisi Ke Pyaar Mein is revolving around Pakhi getting angry and insecure with Virat and Sai's friendship.
It seems that Virat had to leave immediately for his mission and hence Sai is left alone in her room.
Pakhi will come and will reveal in front of Sai that she is making the biggest blunder of her life by trusting Virat as at the end of the day he is a man.
She will talk about her own experience and how Virat broke her heart and moved ahead in life easily.
Sai gets insecure due to Virat
Pakhi will advise Sai not to fall in Virat's friendship trap as she has seen it very closely.
Sai will not like the way Pakhi will be talking about Virat but this fact will start irritating Sai.
Will Virat and Sai be able to bond or not?
Keep watching this site for more news and updates.
Latest Ghum Hai Kisi Ke Pyaar Mein Updates