GHKKPM: Virat fails to share details about confidential mission with Sai (Upcoming Twist)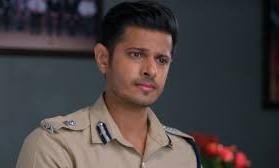 Ghum Hai Kisi Ke Pyaar Mein: Virat fails to share details about mission with Sai
Ghum Hai Kisi Ke Pyaar Mein is revolving around Virat leaving Sai alone during Diwali celebration.
It seems that Sai is very excited to celebrate her Diwali with Virat as she is ready to step in the new phase of her life.
However she will get the biggest shock of her life as she will come across Virat getting dressed in police uniform.
Virat will soon reveal in front of Sai that DIG sir has given him an important mission and he needs to leave right now.
Sai scared about Virat's safety
Sai will try to know more about the mission but Virat will fail to share details about the confidential mission with Sai leaving her more tensed.
Virat will ask Sai to smile and make it easy for him to leave.
Will Virat be able return back safe or not?
Keep watching this site for more news and updates.
Latest Ghum Hai Kisi Ke Pyaar Mein Updates