GHKKPM: New trouble knocking on Sai Virat life with Shruti's entry (Upcoming Twist)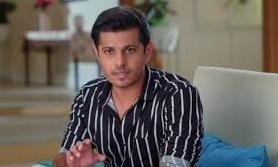 Ghum Hai Kisi Ke Pyaar Mein: Trouble in Sai and Virat's life with new entry
Ghum Hai Kisi Ke Pyaar Mein is revolving around Virat and Sai's life.
It seems that Sai will soon realise that Virat loves and cares about her a lot and all this time he kept quiet due to her.
However things will not turn out as expected as Virat will go on a deadly mission and mistakenly kills Sada.
Sada during his last few breathe will hand over the responsibility of his wife on Virat's hand.
Virat will make it his duty to provide for Sada's wife Shruti and take care of her.
Shruti walks in Virat's life
Apparently Shruti's entry in Chavan Nivas will bring lots of drama and confusion as Sai will not like Virat coming close to Shruti.
Things will turn ugly with Sai and Virat soon.
Will Virat and Sai be able to share their feelings with each other or not?
Keep watching this site for more news and updates.