GHKKPM: DIG opens Sai's eye towards Virat reveals past secret (Upcoming Twist)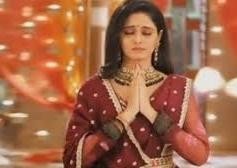 Ghum Hai Kisi Ke Pyaar Mein: DIG reveals past secret to Sai
Ghum Hai Kisi Ke Pyaar Mein is revolving around DIG coming to Chavan Nivas to meet Virat and Sai for Diwali.
It seems that DIG will have a private discussion with Sai and will talk about her relationship with Virat.
DIG will reveal in front of Sai that Virat was in his office when he came to know about her accident.
He had a major meltdown and was not able to understand anything.
Later DIG will reveal that Virat drown the car like aeroplane and reached her but in the hospital he had to face her angry friends who were not allowing him inside the hospital.
DIG makes shocking revelation
DIG will further recall that the entire family was against Virat and was getting angry on him but his mind was only on her.
Sai will get emotional thinking about the torture he had to go through due to her.
DIG will make Sai realise that Virat loves and care about her a lot.
Keep watching this site for more news and updates.