GHKKPM: Virat Sai romance over Pani Puri Pakhi annoyed (Upcoming Twist)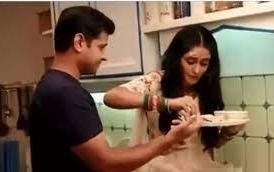 Ghum Hai Kisi Ke Pyaar Mein: Virat and Sai romance over pani puri
Ghum Hai Kisi Ke Pyaar Mein is revolving around Ashwini making Pani Puri for everyone.
It seems that all the husbands in Chavan Nivas will feed their wives Pani puri.
Samrat will feed Pakhi, Ninad will feed Ashwini and Omkar will feed Sonali.
Later Virat will go to Sai and will give her pani puri and feeds her Pani puri with his own hands.
Virat and Sai will share a cute moment together as Modak and Mirchi.
Virat and Sai are very comfortable with each other and have fallen in love with each other as well.
Pakhi jealous with Sai
Pakhi on the other hand is annoyed as she cannot see Virat getting close to Sai and enjoying himself.
Pakhi will once again burn in jealousy due to Virat and Sai's closeness.
Will Virat and Sai be able to unite or not?
Keep watching this site for more news and updates.