GHKKPM: Bhavani pulls Sai leg after Sonali makes shocking announcement (Upcoming Twist)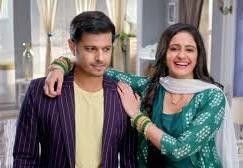 Ghum Hai Kisi Ke Pyaar Mein: Bhavani makes fun of Sai
Ghum Hai Kisi Ke Pyaar Mein is revolving around Chavan Family celebrating Diwali together.
It seems that the family will be in a good mood as once again they will start discussing about Virat and Sai gifting them a baby girl or boy by the next Diwali.
Sonali will take a dig at Sai and reveal that what will happen if the child turns out like Sai.
To this Bhavani will reveal that no problem the child will become intelligent like her mother and will be good in studies.
Sai feels awkward
Bhavani will even reveal that there is no problem as she will give the child best upbringing and make him or her realise the importance of family and values.
Sai will feel awkward as she will not know how to respond.
Will Sai and Virat be able to fulfil Bhavani's wish or not??
Keep watching this site for more news and updates.
Latest Ghum Hai Kisi Ke Pyaar Mein Updates