GHKKPM: History to repeat itself Virat neglect Sai mysterious woman entry (Upcoming Twist)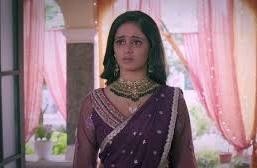 Ghum Hai Kisi Ke Pyaar Mein: Virat neglect Sai history to repeat itself
Ghum Hai Kisi Ke Pyaar Mein is revolving around Virat not acknowledging Sai in front of everyone.
It seems that during the Diwali celebration Virat will leave the house as he needs to go for a deadly mission.
After returning from mission Sai will go to hug Virat but he will totally ignore her and goes to meet other family members.
Pakhi will witness the entire drama and will recall similar situation where Virat started ignoring her suddenly.
Pakhi will go to Sai and reveal that Virat also promised her many things before his marriage but later forgot everything.
Sai suffers heart break
She will reveal in front of Sai that maybe history is repeating itself and now she is facing the same heartbreak that Pakhi had to go through.
Will Virat and Sai be able to overcome these difficult times or not?
Keep watching this site for more news and updates.
Latest Ghum Hai Kisi Ke Pyaar Mein Updates