GHKKPM: Virat trapped in Sadanand murder case gets suspended from duty (Upcoming Twist)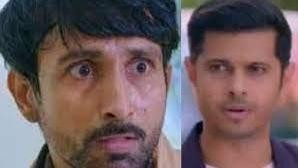 Ghum Hai Kisi Ke Pyaar Mein: Virat gets suspended from duty
Ghum Hai Kisi Ke Pyaar Mein is revolving around Virat trying to catch Sadanand at any cost.
It was earlier seen that Virat will get the biggest shock of his life as he will see Sadanand running away from police and later police will inform Virat that Sadanand is actually the infamous terrorist Sada Pawre.
Virat will soon take the case in his hands as he knows that no one can catch Sadanand except him
Unfortunately Virat will kill Sadanand in an encounter and will get the biggest shock of his life.
Sadanand killed by Virat
On the other hand the police force will be seen getting angry with Virat as they wanted Sada alive.
Soon Virat will get suspended from his duty as his seniors will think that Virat didn't perform the duty to his fullest.
Will Virat be able to prove his innocence or not?
Keep watching this site for more news and updates.
Latest Ghum Hai Kisi Ke Pyaar Mein Updates