GHKKPM: Pakhi vows vengeance against Sai manipulates Samrat against Sai (Upcoming Twist)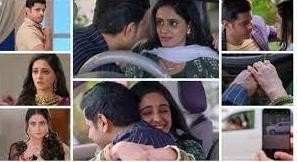 Ghum Hai Kisi Ke Pyaar Mein: Pakhi vows vengeance against Sai
Ghum Hai Kisi Ke Pyaar Mein is revolving around Sai humiliating Pakhi in front of everyone.
It seems that Pakhi will once again target Sai for hugging Virat outside the house and tarnishing the image of Chavan Family.
Sai will be seen fuming in anger and will remind Pakhi that sometime back Pakhi did the exact same thing in cafe in front of the whole world and was holding Virat's hand.
Sai will remind Pakhi that she should see herself first and then point fingers on others.
Sai's word will prick Pakhi hard as she never expected Sai to call out at her so harshly.
Pakhi goes against Sai
Later Pakhi will be sitting in her room and will be very angry.
She will start thinking about her humiliation and will hence vow to seek revenge from Sai.
Will Pakhi be able to seek revenge from Sai or not?
Keep watching this site for more news and updates.