GHKKPM: OMG! Sai finally SLAP Pakhi for disrespecting Virat details ahead (Upcoming Twist)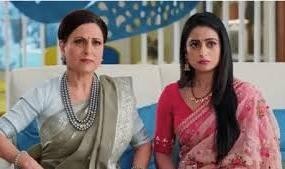 Ghum Hai Kisi Ke Pyaar Mein: Sai slaps Pakhi for disrespecting Virat
Ghum Hai Kisi Ke Pyaar Mein is revolving around Virat going on a mission to catch Sadanand.
It seems that Virat will head for a mission wherein his life will be at stake.
He will go on a massive shootout location and will chase the terrorist Sadanand. Meanwhile, Sai has realized that Virat loves her.
She was about to confront Virat about the same but she saw him dressed in his uniform heading for the mission.
While Virat will chase Sadanand, Sai feels restless and nervous at home.
A series of bad omen makes her worry for Virat.
It is heard that Sai might slap Pakhi.
Sai shuts Pakhi mouth
As Virat is out on the mission, Pakhi will bad mouth about him.
This will irk an already stressed Sai.
She will then plant a tight slap on Pakhi's face and shut her up.
Sai will be extremely worried for Virat and in the meantime will also realize that she loves Virat.
Keep watching this site for more news and updates.