GHKKPM: Not Virat but Sadanand's widow gets close to Samrat (Upcoming Twist)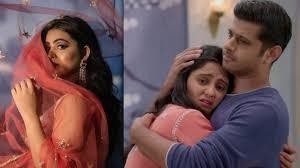 Ghum Hai Kisi Ke Pyaar Mein: Sadanand's widow comes close to Samrat
Ghum Hai Kisi Ke Pyaar Mein is revolving around Virat bring Sadanand's wife in Chavan Nivas.
It seems that after Sadanand's death things will change dramatically in Chavan Nivas as Virat will start holding himself responsible for it.
Soon Virat will decide and bring Sada's wife in Chavan Nivas as it will make his conscious clear.
If rumours are to be believed Sada's widow wife too soon get close to Samrat and this will irk Pakhi as she cannot give her place to anyone.
Sada's wife will get close to Samrat and the two will become close friend.
Sada's wife changes Samrat
Pakhi will be seen threatened as she knows that Samrat might leave her if he doesn't get anyone who loves and cares for him.
Will Pakhi be able to Sada's wife and Samrat before it becomes very late?
Keep watching this site for more news and updates.
Latest Ghum Hai Kisi Ke Pyaar Mein Updates