GHKKPM: Post Sadanand's death Virat brings his widow in Chavan Nivas (Upcoming Twist)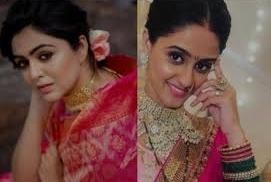 Ghum Hai Kisi Ke Pyaar Mein: Virat brings Sadanand's widow in Chavan Nivas
Ghum Hai Kisi Ke Pyaar Mein is revolving around Virat not able to digest the fact that his best friend Sadanand has become a terrorist.
It seems that in a deadly encounter Sadanand dies leaving behind his family alone to face the world.
Virat will come to know about Sadanand's wife who is shattered as she has no place to go after his death.
Virat will be seen taking a bold step and bring Sadanand's widow in Chavan Nivas to stay with them.
This will come as a huge shock for Bhavani and Sonali as they don't want to be associated with a terrorist family.
Sai supports Virat's decision
Sai on the other hand will understand Sadanand's widow's pain and will hence help her to move ahead in life and deal with the situation.
Will Sadanand's wife be able to live in Chavan Nivas or not?
Keep watching this site for more news and updates.
Latest Ghum Hai Kisi Ke Pyaar Mein Updates