GHKKPM: Ashwini reads Sai's mind makes shocking revelation in front of Bhavani (Upcoming Twist)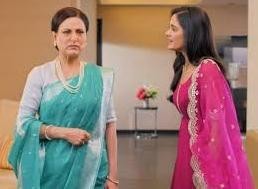 Ghum Hai Kisi Ke Pyaar Mein: Ashwini reads Sai's mind
Ghum Hai Kisi Ke Pyaar Mein is revolving around Bhavani getting angry with Sai for hugging Virat outside the house.
This act of Virat and Sai will bring tsunami in Chavan Nivas as Bhavani Omkar Sonali and Pakhi will go against Sai and Virat for romancing outside the house.
Later Ashwini will go to Bhavani's room and will remind Sai's last words before storming out.
She will reveal that Sai said that she doesn't want to bring a child in Chavan Nivas under such environment.
Ashwini gets hope in Bhavani's life
Ashwini will make Bhavani realise that maybe Sai is thinking about the child and therefore these words came out of her mouth.
Bhavani will become very happy that finally Sai and Virat are thinking about the marriage.
Will Virat and Sai be able to unite and bring a child in Chavan Nivas or not?
Keep watching this site for more news and updates.
Latest Ghum Hai Kisi Ke Pyaar Mein Updates