GHKKPM: Oh no! Sai's Diwali turns sour as Virat leaves for deadly mission (Upcoming Twist)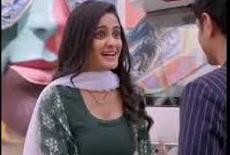 Ghum Hai Kisi Ke Pyaar Mein: Sai's Diwali turn Sour due to Virat's mission
Ghum Hai Kisi Ke Pyaar Mein is revolving around Sai finally making up her mind to shift back in Virat's room.
It seems that both Sai and Virat are secretly happy to come together in the same room as they are ready to start a fresh life together.
However things will soon take an unexpected turn as Virat will be seen getting ready for a deadly mission during Diwali celebration.
This will come as a huge shock for Sai as she thought that this is going to be their reunion but now Virat is leaving her and going to perform his duty.
Virat leaves Sai alone
Virat will soon reveal that he is going for a dangerous mission and anything can happen.
Will Virat and Sai be able to unite once again or not?
Will Virat be able to express his true feeling towards Sai or not?
Keep watching this site for more news and updates.
Latest Ghum Hai Kisi Ke Pyaar Mein Updates