GHKKPM: Virat ignores Sai post deadly mission Pakhi fills poison in Sai's mind (Upcoming Twist)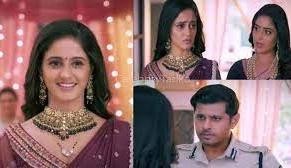 Ghum Hai Kisi Ke Pyaar Mein: Virat ignores Sai post deadly mission
Ghum Hai Kisi Ke Pyaar Mein is revolving around Virat trying to catch Sadanand at any cost.
In episodes to come Virat will kill Sadanand in an encounter and will get the biggest shock of his life.
Things will soon change after Sada's death as Virat will start ignoring Sai.
Pakhi will notice this change in behaviour and remind Sai that she has gone through similar phase in her life as Virat also broke his promise and started ignoring her after his marriage.
Pakhi will fill poison in Sai's mind against Virat and makes her believe that Virat is not doing the correct thing.
Sai scared to lose Virat
Sai on the other hand will get scared as Virat is the most precious thing in her life and if he part ways with her than she will not be able to accept it.
Will Virat and Sai be able to bond once again or not?
Keep watching this site for more news and updates.
Latest Ghum Hai Kisi Ke Pyaar Mein Updates