GHKKPM: Just before death Sadanand reveals shocking secret to Virat (Upcoming Twist)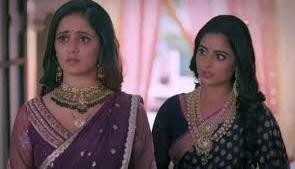 Ghum Hai Kisi Ke Pyaar Mein: Sadanand makes shocking revelation to Virat
Ghum Hai Kisi Ke Pyaar Mein is revolving around Virat seeing Sadanand dying in front of his own eyes.
It seems that things will become very difficult between Virat and Sadanand and Virat will chose his duty over friendship and will shoot Sadanand.
Sadanand will breathe his last in Virat's arms and will take a promise from Virat and he will take care of his widow wife and will bring her to Chavan Nivas as his wife.
Virat will not be left with much option as he doesn't want to break the heart of his dying friend.
Virat makes promise to Sadanand
Virat will once again be in huge dilemma as on one side it's Sai and his love towards her and on the other its Sadanand's widow and his promise to a dying man.
Will Virat be able to bring Sadanand's wife in Chavan Nivas or not?
Keep watching this site for more news and updates.
Latest Ghum Hai Kisi Ke Pyaar Mein Updates