GHKKPM: Big Twist Sai to consummate marriage with Virat (Upcoming Twist)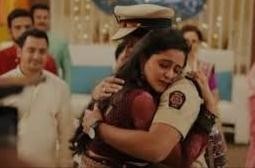 Ghum Hai Kisi Ke Pyaar Mein: Sai to consummate marriage with Virat
Ghum Hai Kisi Ke Pyaar Mein is revolving around Virat and Sai's life.
It seems that Sai will soon realise that Virat loves and cares about her a lot and all this time he kept quiet due to her.
Sai will finally decide to confront Virat about his feelings towards her and give a meaning to their marriage.
Sai will decide to consummate the marriage and take a step forward in their marriage as she wants to enjoy her married life with him.
However things will not go as planned as Virat will have to leave for an urgent mission leaving Sai alone.
Sai misses Virat badly
Sai will feel bad that all this time she was away from Virat and now when she wants to get close to him destiny has other plans.
Will Virat and Sai be able to share their feelings with each other or not?
Keep watching this site for more news and updates.
Latest Ghum Hai Kisi Ke Pyaar Mein Updates