GHKKPM: Sonali makes fun of Star Couple Sai Virat Ashwini pissed off (Upcoming Twist)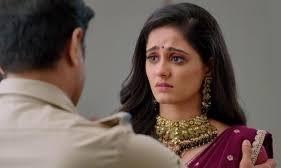 Ghum Hai Kisi Ke Pyaar Mein: Sonali makes fun of Sai and Virat in front of Family
Ghum Hai Kisi Ke Pyaar Mein is revolving around Sai shifting back to Virat's room.
It seems that Sai will be shifting back to Virat's room as she will respect Bhavani's order.
Sai and Virat will not come down and sit with the family as Sai is busy packing her bag to shift.
This will give Sonali golden opportunity to make fun of Virat and Sai in front of everyone.
Sonali will be seen tagging Virat and Sai as the Star Couple of the house.
Ashwini angry with Sonali
Sonali will once again high light the fact that Sai and Virat get special treatment from the rest of the family and will poke fun of the fact that Sai is shifting to Virat's room and hence the two have not come down as the two must be romancing together.
This act of Sonali will irk Ashwini as she will take a stand for Sai and Virat.
Keep watching this site for more news and updates.
Latest Ghum Hai Kisi Ke Pyaar Mein Updates