GHKKPM: Virat gives importance to Farz over Love shocking farewell ahead (Upcoming Twist)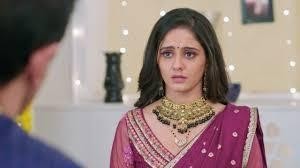 Ghum Hai Kisi Ke Pyaar Mein: Virat gives importance to his duty than love
Ghum Hai Kisi Ke Pyaar Mein is revolving around DIG informing Virat about a deadly mission.
It seems that Sai has finally made up her mind to have a discussion with Virat about his true feelings towards her.
However things will not go as planned as the moment Sai will enter Virat's room she will see him dressed up in police uniform rather than a Kurta.
Virat will soon reveal in front of Sai that his duty is calling him as DIG has given him an important mission.
Sai holds back feelings
This will leave Sai shattered as she had thought of confessing her feeling to Virat but once again she has to hold back her feelings as Virat has to go for a mission.
Sai will be shedding tears as she will see Virat leaving for the mission.
Will Virat and Sai be able to understand they true feelings or not?
Keep watching this site for more news and updates.
Latest Ghum Hai Kisi Ke Pyaar Mein Updates