GHKKPM: Chavan Family break into tears as Virat bids them final Goodbye (Upcoming Twist)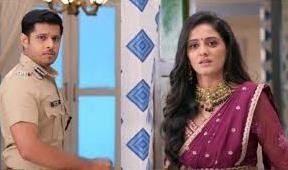 Ghum Hai Kisi Ke Pyaar Mein: Virat bids final goodbye to Chavan Family
Ghum Hai Kisi Ke Pyaar Mein is revolving around Virat leaving Chavan Nivas just before a confidential mission.
It seems that Chavan Family will be shocked to see Virat in a police uniform just before the Puja.
They will confront him to know more details about it.
Soon Virat will inform his family that he is going for a secret mission and hence cannot share more than this.
Bhavani and Ashwini will get emotional as Virat is leaving them just before the puja.
Virat leaves Chavan Nivas
Later Ashwini will get sacred about Virat and Sai's security as whenever the two part ways one of them faces near death situation.
However Virat will ask Ashwini to calm down and will make her realise that she is mother of an IPS officer and hence needs to be brave.
The family will say Goodbye to Virat with heavy heart and tears in their eyes.
Keep watching this site for more news and updates.