Imlie: Aditya devastated as Satyakaam kidnaps Malini huge twist in storyline (Upcoming Twist)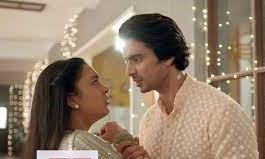 Imlie: Malini gets kidnapped by Satyakaam
Star Plus' latest offering Imlie is revolving around Malini trying to regain her lost position in Tripathi family.
It seems that Malini will once again play mind game with Aditya and Imlie.
Shockingly Meethi will bring Satyakaam to Aditya's house to clear the air between Aditya and Satyakaam.
They will enter the house by back gate as they want to talk to Imlie before anyone else.
Malini will create a distraction by setting the house on fire and leaves along with Satyakaam.
Aditya will be forced to believe that Satyakaam has kidnapped Malini and she might be in some kind of danger.
Aditya angry with Imlie
The entire house will be shocked as Malini goes missing and Satyakaam is also not there.
Imlie will also be scared as she doesn't know what is playing in Satyakaam's mind.
Will Aditya be able to bring Malini back or not?
Let's see what will happen next in the show.