Imlie: Malini gains Aditya sympathy plays mind game with Imlie Aditya (Upcoming Twist)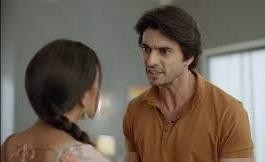 Imlie: Malini plays mind game with Imlie Aditya
Star Plus' latest offering Imlie is revolving around Malini's plotting behind Imlie and Aditya's back.
It seems that Malini will smartly leave Tripathi house and puts the entire blame on Imlie's head.
She will soon reveal in front of Aditya that she has not gone to her house but instead she is staying in a hotel to avoid people judging her.
This will leave Aditya mad as he feels that Malini is facing all these issues due to Imlie asking her to leave Tripathi house.
Aditya turns guilty conscious
The problem between Imlie and Aditya will turn ugly as Malini's idea will finally work and he will start getting angry with Imlie and gets frustrated.
Imlie on the other hand will feel bad that she is not able control Aditya's guilt.
Will Malini be able to succeed in her mission to break Imlie and Aditya's bond or not?
Let's see what will happen next in the show.