Imlie: Huge Twist Imlie turns villain in Aditya Malini friendship (Upcoming Twist)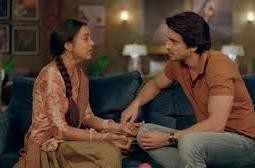 Imlie: Imlie comes between Aditya Malini friendship
Star Plus' latest offering Imlie is revolving around Malini's plotting behind Imlie and Aditya's back.
It seems that Malini will smartly leave Tripathi house and puts the entire blame on Imlie's head.
She will turns into a good and helpless girl and makes Imlie the villain of her life.
Imlie on the other hand will not be able to understand what is playing in Aditya's mind as he is not ready to believe her and instead will trust Malini.
Malini will very clearly make Aditya believe that due to his relationship with Imlie she has decided to leave the house and stay in a hotel.
Imlie falls in Malini's trap
Though Imlie will try to correct her that Malini is with her mother but this will leave Aditya further angry as he feels that Imlie is spying on Malini.
Will Malini be able to succeed in her mission to break Imlie and Aditya's bond or not?
Let's see what will happen next in the show.