Imlie: Imlie housewarming ritual bring Malini best foot forward (Upcoming Twist)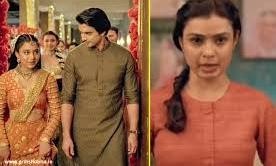 Imlie: Imlie gets housewarming by Tripathi family
Star Plus' latest offering Imlie is revolving around Imlie finally getting accepted by the Tripathi family.
It was earlier seen that Tripathi family will finally accept Imlie and will plan a grand housewarming for her.
They will make her enter the house along with Aditya as a newly wedded couple would have done.
Malini will soon realise that she cannot win the Tripathi family and Aditya if she goes against Imlie.
She will hence act as if she is changed and has finally accepted that Aditya and Imlie is a couple.
She will be seen doing arti for Imlie and Aditya and bless their alliance.
Imlie Malini at loggerhead
However Imlie is not able to accept this drastic change in Malini as she knows that Malini does like her and is against their alliance.
Will Imlie fall in Malini's trap or not?
Will Imlie and Aditya be able to unite or not?
Let's see what will happen next in the show.