Imlie: Imlie counter attacks Anu for trying to hurt Aditya (Upcoming Twist)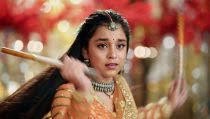 Imlie: Imlie stops Anu from hurting Aditya
Star Plus' latest offering Imlie is revolving around Anu's enmity towards Imlie.
It was earlier seen that Tripathi family will come together to celebrate the garba night along with everyone.
Imlie and Aditya will be seen enjoying the night and dancing along with each other.
Apparently Imlie will not let Malini dance along with Aditya as she is pregnant and will hence ask her to sit and enjoy.
Anu will not like the idea that her daughter is sitting alone in one corner and Imlie is having a blast with Aditya.
Imlie makes fun of Anu
She will hence go up to Aditya to hurt him with Dandiya stick.
However Imlie will once again turn into a shield for Aditya and will stop Anu from attacking Aditya.
She will in fact make fun of Anu and replace the dandiya stick with balloon so that she is not able to hurt anyone further.
Let's see what will happen next in the show.