Imlie: Anu ruins Imlie's surprise plants rats in Tripathi house (Upcoming Twist)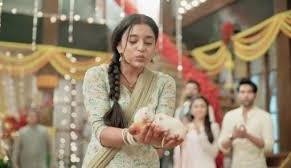 Imlie: Imlie surprise ruined by Anu
Star Plus' latest offering Imlie is revolving around Anu's planning against Imlie.
It seems that Anu will not be able to digest the fact that the Tripathi family are planning a surprise for Imlie and will hence plan to ruin her big day.
Anu will bring lots of rats in Tripathi house and will leave it around the house.
The family will be in chaos as they will not understand where these rats are coming from.
Aparna on the other hand will feel sad that the surprise that she had planned for Imlie is getting ruined by the army of rats that have entered her house.
Anu Malini enjoy chaos
Funnily each and every member of the house will be seen running around as they will be scared to face the rat.
Anu and Malini will be seen enjoying the chaos as their plan has worked.
Will Anu and Malini be able to ruin Imlie's big day?
Let's see what will happen next in the show.