Imlie: Aditya demands legal separation Malini huge sacrifice ahead (Upcoming Twist)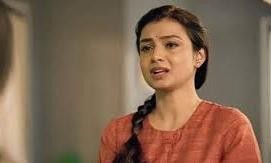 Imlie: Aditya demands legal separation from Malini
Star Plus' latest offering Imlie is revolving around Imlie finally getting accepted by the Tripathi family.
It was earlier seen that Malini has changed her game plan and is not openly creating problems for Aditya and Imlie's alliance.
Aditya will soon ask Malini to sign divorce papers in front of the entire family and end their relationship legally forever.
Though Anu will try to stop Malini but she will follows Aditya's request and signs the papers winning Tripathi family love and respect once again.
Aditya will also be happy as now he can start his life with Imlie without thinking much about his past.
Imlie suspects Malini
Imlie on the other hand will get suspicious as why Malini took such a huge decision without a second thought.
Will Malini be able to snatch Aditya from Imlie or not?
Will Imlie be able to understand what is playing in Malini's mind or not?
Let's see what will happen next in the show.