MHRW: Sunny spoils Raghav Pallavi honeymoon trip details ahead (Upcoming Twist)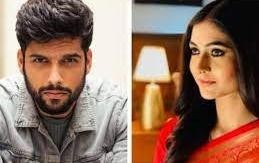 Mehndi Hai Rachne Waali: Sunny spoils Raghav Pallavi honeymoon trip
Star Plus show Mehndi Hai Rachne Waali is revolving around Sunny creating differences between Raghav and Pallavi.
It seems that Sunny wants to kick Pallavi out of the house as he knows that Pallavi is the biggest hindrance between his dreams of conquering the RR mansion.
He will hence start instigating Esha against Pallavi and makes her believe that Raghav is not happy with Pallavi.
Esha will soon get convinced that Pallavi is not fit for Raghav and will hence start planning and plotting behind their back.
Sunny targets Raghav Pallavi marriage
They will even spoil Raghav and Pallavi's honeymoon.
Pallavi on the other hand will find things very suspicious and feels that someone is trying to create differences between her and Raghav and will hence try to get to the bottom of the conspiracy.
Will Esha be able to focus on Raghav and get him back or not?
Will Pallavi be able to expose Sunny and Esha in front of Raghav or not?
Stay tuned for more updates only on Serialxpress.com.