MHRW: Sunny alerts Esha from Pallavi Keerti attacking mode (Upcoming Twist)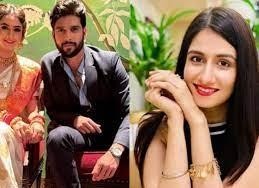 Mehndi Hai Rachne Waali: Sunny saves Esha from Pallavi Keerti
Star Plus show Mehndi Hai Rachne Waali is revolving around Keerti Jaya and Pallavi doubting on Esha's intension.
It seems that Sunny will overhear Keerti Jaya and Pallavi's conversation where they will decide to go to confront Esha about her keeping fast and will check her room for some clues.
Sunny will rush to Esha's room to alert her about the same and stop Esha from getting exposed.
The moment Pallavi Keerti and Jaya will enter Esha's room they will find her sleeping.
Esha gets saves by Sunny
Later Esha will create such a drama in front of Pallavi that she is not keeping well and hence decided to sleep in her room.
Pallavi will feel bad that she uselessly doubted on Esha without knowing the real truth.
Will Pallavi be able to expose Esha before it's too late?
Will Raghav be able to tell Pallavi the truth about his and Esha's mistake or not?
Stay tuned for more updates only on Serialxpress.com.