MHRW: OMG! Sulochna doppelganger Rajni drive Milind crazy (Upcoming Twist)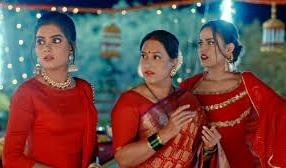 Mehndi Hai Rachne Waali: Sulochna duplicate Rajni entry in Milind's life
Star Plus show Mehndi Hai Rachne Waali is revolving around Milind's confusion.
It was earlier seen that Milind will see Sulochna's lookalike and gets tensed.
Shockingly Sulochna's duplicate Rajni comes to Deshmukh house.
Milind gets shocked and calls her Sulochana and gets angry with her for dressing differently.
She tells him that she is Rajni and he can contact for tiffin service and gives him her pamphlet along with phone number and address.
Milind unable to believe truth
Milind calls Amruta and confirms Sulochana's presence in Rao mansion.
He will ask Amruta to click a picture of Sulochna and send him immediately.
He gets surprised to know that Sulochana is sitting in RR mansion and will finally believe that Sulochana and Rajni are lookalikes.
Will Milind be able to find the connection between Sulochana and Rajni or not?
Stay tuned for more updates only on Serialxpress.com.