GHKKPM: Virat Sai love story begin from scratch Bappa's blessing ahead (Upcoming Twist)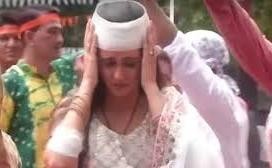 Ghum Hai Kisi Ke Pyaar Mein: Virat Sai new story begins
Ghum Hai Kisi Ke Pyaar Mein is revolving around Virat and Sai's life.
It seems that Virat is taking Sai back in Chavan Nivas as she has fully recovered from her terrible accident.
Sai will come across the same boy whom she tried to save and hence met with the terrible accident.
The family will be very grateful towards Sai for saving their son from the huge mishap.
The mother of the boy will be folding her hands and will love the way Virat takes care of Sai.
She will further reveal that Virat is very lucky to have such a good soul in his life that played on her life to save someone else.
Virat Sai in love
Virat will feel proud of Sai for her noble act.
Will Virat and Sai be able to unite once again?
Will Virat and Sai be able to confess their true feelings towards each other or not?
Keep reading this space for more updates from the entertainment world.