GHKKPM: Sonali Omkar get greedy bring money between relationships (Upcoming Twist)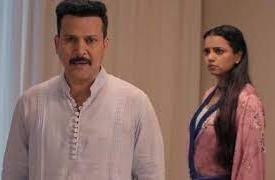 Ghum Hai Kisi Ke Pyaar Mein: Omkar talks about Chavan Nivas expenses
Ghum Hai Kisi Ke Pyaar Mein is revolving around the fight between the elders of the house.
It seems that Sonali and Omkar are getting angry as each and every member of the house are pointing fingers them.
Sonali and Omkar will soon taunt Shivani and the rest of the family that they fun and food in Chavan Nivas comes from their hard work.
This will create a huge commotion in Chavan Nivas as for the first time Omkar and Sonali will start talking about the house expenses and their huge contribution in running the house hold expenses.
Omkar Sonali humiliate Bhavani
Bhavani and Omkar will feel bad that Omkar being the youngest is making them feel bad about the fact that they are not giving their contribution towards the house expenses.
Will the family be able to come to a conclusion or not?
Keep reading this space for more updates from the entertainment world.
Latest Ghum Hai Kisi Ke Pyaar Mein Updates