GHKKPM: Nervous Sai back in Chavan Nivas with Virat as protector (Upcoming Twist)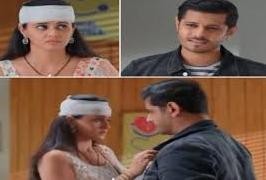 Ghum Hai Kisi Ke Pyaar Mein: Sai gets nervous in Chavan Nivas
Ghum Hai Kisi Ke Pyaar Mein is revolving around Sai's entry in Chavan Nivas.
It seems that after lots of ups and down Sai and Virat will finally go back to Chavan Nivas.
Virat will take Sai along with him to Chavan Nivas as he feels protective towards her.
However Sai will the recall all her planning plotting and hard work that she had done to escape from Chavan Nivas but destiny had some other plan and bought her back in Chavan Nivas.
Virat on the other hand understands Sai's feelings and dilemma and will turn her protector as he will help her stay comfortably in Chavan Nivas.
Sai face entire Chavan family
Sai on the other hand has to deal with the drama of Chavan Nivas once again and hence is nervous.
Will Virat be able to shield Sai from all the evil eyes of the family or not?
Will Virat and Sai be able to unite or not?
Keep reading this space for more updates from the entertainment world.