MHRW: Esha love turns obsession wants Raghav back at any cost (Upcoming Twist)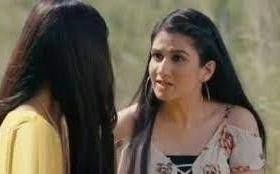 Mehndi Hai Rachne Waali: Esha wants Raghav at any cost
Star Plus show Mehndi Hai Rachne Waali is revolving around Esha's entry in Raghav's life.
It seems that Esha will see Raghav and Pallavi's perfect married life and starts feeling jealous of their relationship.
She will feel lonely and angry as she feels that Raghav belongs to her and no one else.
Soon Esha's love towards Raghav turns obsession and she will start creating problems between Raghav and Pallavi.
Esha will try to get close to Raghav and make him remember the beautiful bond that they once shared.
Esha creates problem for Raghav Pallavi
However Raghav is no more in love with Esha and doesn't want her back in his life as he only loves and care about Pallavi.
Esha will hence turn into a huge problem for Raghav and Pallavi's married.
Will Raghav be able to save his marriage from Esha's evil eyes or not?
Stay tuned for more updates only on Serialxpress.com.