BALH2: Soaked in anger Priya signs pre nuptial Ram feels Priya's pain (Upcoming Twist)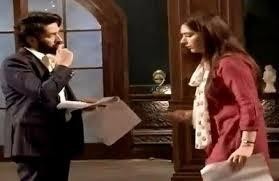 Bade Ache Lagte Hai 2: Priya signs pre nuptial of Ram
Sony Entertainment daily popular show Bade Ache Lagte Hai season 2 is revolving around Ram and Priya's pre nuptial.
It seems that Priya will agree to sign the pre nuptial send by Ram as she doesn't want any more drama in her life.
She will go to Ram's house and will inform him that though she is middle class and doesn't have the kind of money that he has but she loves her principles and will never try to take out money from him if their marriage fail.
Ram respects Priya
Ram will feel bad for Priya as he didn't want to hurt her feeling but he is doing all this for his family and their safety.
Will Ram and Priya be able to move ahead in life and leave their past life baggage behind?
Will Ram be able to understand Priya and her problems or not?
For more exciting updates, stay tuned to Serialxpress.com.
Latest Bade Acche Lagte Hai 2 Updates