BALH2: Mahindra Singh Sood's hideous act to break Ram Priya alliance (Upcoming Twist)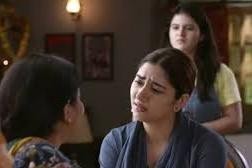 Bade Ache Lagte Hai 2: Mahindra Singh Sood breaks Ram Priya alliance
Sony Entertainment daily popular show Bade Ache Lagte Hai season 2 is revolving around Shashi planning and plotting against Ram and Priya.
It was earlier seen that Shashi will hire Priya's father Mahindra Singh Sood to break Priya and Ram's alliance.
Mahindra Singh Sood will once again do the unthinkable by informing the bank people that Priya is getting married to business tycoon Ram Kapoor and therefore their loan will be paid by him.
This will come as a shock to Priya and her mother that Mahindra Sood can get so low to create problems between Ram and Priya.
Priya hates Mahindra Singh Sood
Priya's mother will kick Mahindra Sood out of her house as she doesn't want to keep any contact with him.
Will Priya be able to sort out the misunderstanding that Mahindra Singh Sood created between her and Ram?
Will Ram and Priya be able to marry or not?
For more exciting updates, stay tuned to Serialxpress.com.