BALH 2: Mahindra Singh Sood secret mission to ruin Ram Priya marriage (Upcoming Twist)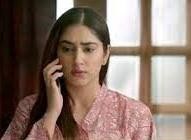 Bade Ache Lagte Hai 2: Mahindra Singh Sood creates drama in Ram and Priya's life
Sony Entertainment daily popular show Bade Ache Lagte Hai season 2 is revolving around Ram and Priya's marriage.
It was earlier seen that Mahindra Singh Sood has come to Priya's house with a hidden agenda to ruin her marriage with Ram.
He will start creating misunderstanding between the two families and will create such a situation that will leave Priya fuming in anger.
Nandini will raise her objection over the fact that Priya has been hiding important details about her family from everyone.
Ram will also find it very fishy that Priya is having so much of problem in her personal life.
Mahindra Singh Sood creates problem between Ram & Priya
Mahindra Singh Sood is secretly happy that Priya's marriage is at stake due to him.
Will Ram and Priya be able to get married or not?
It will be interesting to see what will happen next in the show.
For more exciting updates, stay tuned to Serialxpress.com.