Bade Ache Lagte Hai 2: Priya father hired by Shashi break Ram Priya marriage (Upcoming Twist)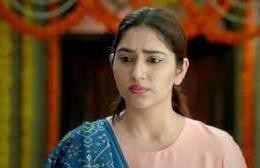 Bade Ache Lagte Hai 2: Shashi hires Priya's father
Sony Entertainment daily popular show Bade Ache Lagte Hai season 2 is revolving around Shashi's attempt to break Ram and Priya's marriage.
It was earlier seen that Shashi will hire Priya's greedy father to ruin her marriage with Ram Kapoor.
Shashi cannot see happiness in Ram Kapoor's life and wants to destroy anything that makes Ram happy.
Shashi will hence catch hold of Priya's father who turns out to be a greedy man behind money and doesn't care about his first wife and three daughters.
Shashi ruins Ram's happiness
Priya's father will come to their house and will put up fake concern and will want to be a part of the marriage so that he can create drama in each and every ceremony.
Will Priya be able to know the dirty intension of her father or not?
Will Shashi once again ruin Ram's happiness or not?
For more exciting updates, stay tuned to Serialxpress.com.