Bade Ache Lagte Hai 2: Vedika avoids Ram during engagement ceremony (Upcoming Twist)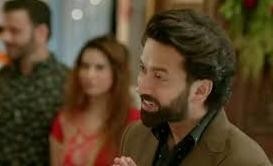 Bade Ache Lagte Hai 2: Vedika avoids Ram Kapoor
Sony Entertainment daily popular show Bade Ache Lagte Hai season 2 is revolving around Ram and Priya's engagement ceremony.
It seems that after lots of ups and down both Ram and Priya will agree to marry each other under the pressure of their family.
Ram will see Vedika in his engagement party and will want to have a talk with her but she will avoid him and walks out.
This will hurt Ram's feeling as he is still in love with Vedika and doesn't want to harm her at any cost.
Vedika Ram past resurface
Vedika will be seen having a tough time to accept the fact that Ram is getting married and will move ahead in life.
Vedika will be seen meeting Priya during the ceremony and helping her out.
Will Vedika and Ram be able to put their past behind and become cordial or not?
For more exciting updates, stay tuned to Serialxpress.com.