Bade Ache Lagte Hai 2: Ram Priya street fight due to Vedika's mistake (Upcoming Twist)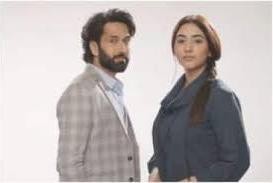 Bade Ache Lagte Hai 2: Ram and Priya huge fight ahead
Sony Entertainment daily popular show Bade Ache Lagte Hai season 2 is revolving around Ram's attempt to get a match for Priya.
It seems that Priya will soon come to know through Vedika that Ram called her here not to talk about Shivina and Akki's marriage but to discuss about her marriage with his good friend Kunal.
This will leave Priya fuming in anger as she cannot see anyone trying to make decisions on her behalf.
Priya will publicly humiliate Ram for not taking her consent before finalising things about her.
Priya will be very angry and will not allow Ram to defend his move.
Priya humiliates Ram
Vedika on the other hand will feel sad that due to her mistake Ram is being humiliated by a girl.
Will Priya be able to understand Ram's good intensions or not?
Will Ram and Priya be able to bond or not?
For more exciting updates, stay tuned to Serialxpress.com.