Bade Ache Lagte Hai 2: Nandini tags Ram as big loser Priya turns defensive (Upcoming Twist)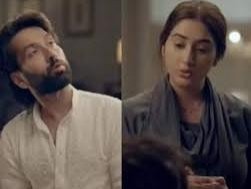 Bade Ache Lagte Hai 2: Nandini calls Ram as loser
Sony Entertainment daily popular show Bade Ache Lagte Hai season 2 is revolving around Ram's love and protectiveness towards his family.
It seems that Nandini will get the biggest shock of her life when she comes to know that Shivi is pregnant with Akki's child.
This will leave Nandini in a state of shock as she will not know how to handle the situation.
Nandini will go to Akki's house and will reveal in front of everyone that she will get Priya married to her eldest son Ram if Akki agrees to marry Shivi.
Ram will get shocked to know about his marriage with Priya and raise objection.
Ram unable to accept Priya
Later Nandini will get angry with Ram for rejecting the proposal and not thinking about his sister.
She will also taunt Ram to be a loser as he is not able to accept the changes in his life.
Will Ram and Priya be able to come together or not?
For more exciting updates, stay tuned to Serialxpress.com.