Bade Ache Lagte Hai 2: Jealous Neeraj creates scene in Ram Priya engagement ceremony (Upcoming Twist)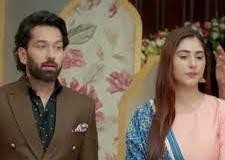 Bade Ache Lagte Hai 2: Neeraj jealous of Ram and Priya
Sony Entertainment daily popular show Bade Ache Lagte Hai season 2 is revolving around Neeraj's insecurity towards Ram and Priya's alliance.
It was earlier seen that Neeraj is not able to accept the fact that Priya is getting married to a billionaire like Ram Kapoor.
This will affect his male ego as he thought that Priya will remain a single all her life because of him.
Neeraj will hence create a scene during Ram and Priya's engagement ceremony where he will reveal that Priya still loves him.
Ram blindly supports Priya
However Priya will deny having any kind of relationship with him and reveals that Neeraj is married to her younger sister.
Ram will also support Priya in front of the entire guest and will assure her that there is no problem with her having a past.
Will Neeraj allow Priya to marry Ram peacefully or not?
For more exciting updates, stay tuned to Serialxpress.com.