Bade Ache Lagte Hai 2: Ram Priya team up to makes Neeraj jealous (Upcoming Twist)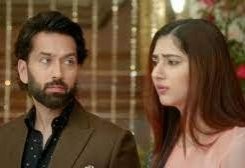 Bade Ache Lagte Hai 2: Ram and Priya make Neeraj jealous
Sony Entertainment daily popular show Bade Ache Lagte Hai season 2 is revolving around Neeraj's anger and frustrations towards Priya and Neeraj's union.
It was earlier seen that Neeraj will try to create a scene during Ram and Priya's engagement ceremony.
However Ram will handle to situation very well and will not allow Neeraj to ruin his engagement.
Ram will later crack silly jokes to make Priya laugh so that seeing her happy with Ram will make Neeraj unhappy.
Ram supports Priya
Both Ram and Priya want to prove Neeraj wrong that they are not happy together and hence the two will team up to teach him a lesson.
Priya will make it very clear in front of Ram that she has no feelings for anyone and can never fall in love with anyone.
Will Ram and Priya be able to get happiness in each other's life or not?
For more exciting updates, stay tuned to Serialxpress.com.