MHRW: Post shocking revelation Raghav physically abuses Pallavi (Upcoming Twist)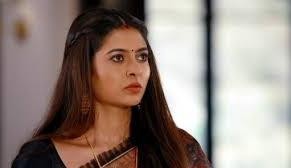 Mehndi Hai Rachne Waali: Raghav physically abuses Pallavi
Star Plus show Mehndi Hai Rachne Waali is revolving around Raghav getting exposed by Pallavi.
It seems that Pallavi will come to know that Raghav is a criminal and is into smuggling of diamonds.
She will be pissed off with Raghav and decides to walk out of his life.
However Sharda will remind Pallavi that Raghav is her love and husband and she cannot give up on him so easily.
Pallavi will hence go back to Raghav to give second chance to her marriage and Raghav.
However Raghav will be emotionally hurt due to Pallavi's huge allegation and gets drunks.
Raghav hurts Pallavi
In the drunken state Raghav will physically hurt Pallavi as she has failed to believe in him.
Though Pallavi will try to make Raghav see the mirror and change himself but Raghav is too adamant to allow any kind of changes.
Will Raghav be able to realise his mistake or not?
Stay tuned for more updates only on Serialxpress.com.