YRKKH: Sirat's miscarriage creates never ending crack between Kartik Sirat (Upcoming Twist)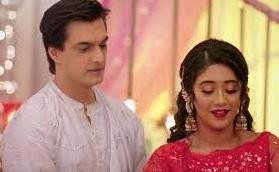 Yeh Rishta Kya Kehlata Hai: Sirat suffers miscarriage
Star Plus show Yeh Rishta Kya Kehlata Hai is the longest and most successful show on the channel.
It seems that Kartik will soon come to know that Sirat is pregnant and gets confused with the fact that why she had to hide such a big news from her family.
Later Kartik will come to know that Sirat is planning to get an abortion done and gets angry.
However things will not go as planned and Sirat will unfortunately suffer a miscarriage.
This news will not go well with Kartik as well as the rest of the family as they will think that Sirat did all this purposefully as she doesn't want the child.
Kartik misunderstand Sirat
Kartik on the other hand will confront Sirat about her hideous act.
Will Kartik be able to understand Sirat's dilemma or not?
Will Sirat be able to win Kartik's confidence once again or not?
Keep watching this site to know what more is coming up in the show.