YRKKH: Sirat gets appointment for abortion Goenka family kept in dark (Upcoming Twist)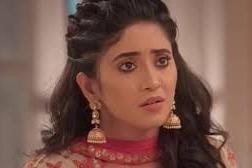 Yeh Rishta Kya Kehlata Hai: Sirat plans to get abortion
Star Plus show Yeh Rishta Kya Kehlata Hai is revolving around Sirat's pregnancy.
It seems that Sirat will soon come to know about her pregnancy and will be in cloud nine.
Sirat will soon feel that maybe her child will be unwanted in Goenka house as everyone loves Kairav and Akshara.
Later Kartik will have a small talk with Sirat and will reveal that he feels that his family is complete with his two kids.
Sirat will hence decide to do the unthinkable by getting the abortion done behind the back of her family.
Sirat in huge dilemma
Neither Kartik nor the Goenka family will know that Sirat is planning to take such a huge step behind their back.
Will Kartik be able to forgive Sirat or not?
Will Kartik and Sirat be able to welcome the new member of Goenka family or not?
Keep watching this site to know what more is coming up in the show.